Shopping Cart
Your Cart is Empty
There was an error with PayPal
Click here to try again
Thank you for your business!
You should be receiving an order confirmation from Paypal shortly.
Exit Shopping Cart
Books, Blogs, Poems and Programs
To enhance well-being by Krissy Regan
| | |
| --- | --- |
| Posted on November 4, 2020 at 3:55 PM | |
As I sit and sip my 3rd cup of coffee for today (at 10am), I am very conscious that I have a lot to say – I've been thinking a lot! I've been moved and inspired a lot lately and I need to share, share, share.
On Saturday I went to vote as did most other Queenslanders. And as I was standing in line (socially distancing of course), with the knowledge of a very long and somewhat busy day in front of me, I was overcome with emotion.
Firstly, I noticed the little gathering of people at the gate from the various parties, in their red, green and blue t-shirts with their fliers at the ready were all happily chatting to each other like old friends. And it warmed my heart to see that despite their political differences and what was a pretty important day for them all, they were normal people, having a normal conversation on a Saturday morning. I took long deep breaths as I stood in line (willing it to move faster as I had a ferry to catch), I tried to stay present and then another thought came over me. Thank god for Emmeline Pankhurst. https://www.biography.com/activist/emmeline-pankhurst because of her leadership, struggle, torture and suffering; women earned the right to vote.
My favourite quote of Emmeline is; "Once they are aroused, once they are determined, nothing on earth and nothing in heaven will make women give way, it is impossible."
I cast my vote for a greener, cleaner future with female leadership and tried not to speed to the ferry terminal. I was on another mission. I told myself to not worry about being late and just enjoy the drive – I got every green light and was the last person to walk on to the boat.
I boarded the bus with my heavy backpack full of books, and made my way to Horsehoe Bay to support a fundraiser organised by another amazing English lady called Ali Bee. Ali runs the Magnetic Island Koala Hospital, a charity organisation, with a team of volunteers and is currently fundraising for a wild-life hospital to be built in North Queensland. Ali's welcome speech highlighted that there is no wild-life hospital north of the Sunshine Coast and North Queensland Wildlife is suffering day by day (not just our Koalas).
Ali and I had chatted on the phone a few times and I had already made a donation to the Koala hospital with proceeds of our pre-order book sales from The Koala who Lost his Heart, but we had not met in person. Maybe it was my hormones, awe of Ali and Izzy, or the emotion of another woman doing good things to help others but I was overcome with feelings of pride for the work Ali is doing. As I hugged Ali (a bit too tight), I thanked her for all that she is doing for the community and told her I was very proud of her. She told me, that she had never set out with this intention but it is her path now.
http://https://www.magneticislandkoalahospital.com.au/
http://https://bit.ly/TheKoalawhoLosthisHeart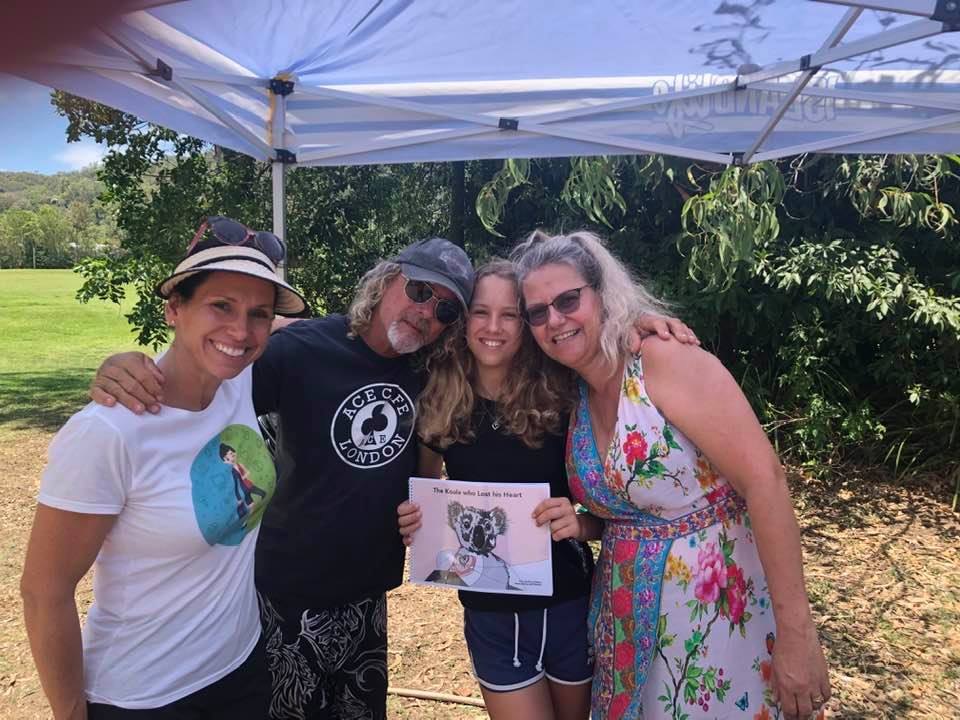 It was an amazing day at Magnetic Island and I was grateful to be included in this event and to use my work to help raise funds for this cause and to meet so many incredible people who are doing small things to make a difference to others.
Which brings me on to my next point (I've got a few left don't worry!). At the fundraiser I was asked by a few different people to support their events, donate to their museum and come and do a talk with them in the future – I always just say "Yes!" and figure out the how, and the cost later because here's what I realise – it's the small things that make the biggest difference to people. Even if it's only a small number of people or elderly people, children or under-privileged who cannot afford to buy anything – I don't care, because my mission is to help, support, inspire and touch the hearts of those I meet – in anyway I can.
After one such event recently I received this very long text message from a man in his 70's who had invited me to be a guest speaker at his lunch (of 6 people)….
"Your influence is some-what essential in today's world, or more correctly put: Mandatory! You have established a sane approach in the nurturing of our well-adjusted future citizens. We are bombarded with questionable mass media and captured entirely with social media. The influence S/M now has is manipulating the users to think and do predictable things, they are the force pulling the strings. The algorithms they use to glean the knowledge of the individual is the rock they perish on. Your influence and your altruistic commitment will certainly make a difference. You now have been recognised by the media and warmly welcomed where-ever you go, your life is now full of promise, may you live long and prosper! I wish you all the best for your future, if only wish we had a world filled with more people like you, our world would be a different place! Kind regards."
Golly gosh – I hope I live up to his expectations…..What a kind man he is to take the time to send me this message.
Later on Saturday evening (Halloween) I had the global launch of my book, Broken to Unbreakable at the Ubud Writers Festival, a rebuild Bali initiative.
The moderator for the session is a Mum of two, business owner and avid reader. Since receiving the eBook and Audiobook a few weeks ago she had started following my social media, engaging with me in a very proactive way and became a very kind advocate for my work.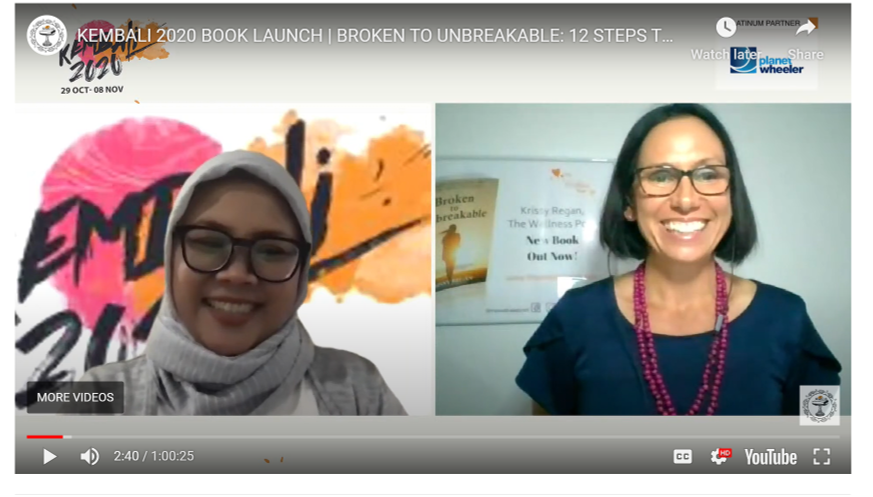 http://https://www.ubudwritersfestival.com/program/book-launch-broken-to-unbreakable-12-steps-to-an-unbreakable-mind-body-spirit/
Because of her passion for my book - I decided to make my eBook available at no-cost to 100 Indonesian people for the duration of the festival. I felt that this was something that I could do to help people of Indonesia at this time who have struggled with the magnitude of the pandemic and have experienced long periods of lockdown. I wanted to share all the tools and strategies I have learned and implemented at home; which are free, accessible to everyone and life-changing.
Regardless of how many people watched my live launch, I know that I have helped a small number of people in some way.
And this brings me to my final 2 points.
Last Friday I attended a lunch to celebrate women of achievement. Many inspiring ladies shared their stories of success, doubts and struggles. The story that most touched me was story about ex-service women. Women who suffer PTSD, exclusion, depression and feel neglected. I felt enormous compassion for the two women who shared their story and although I did not get to speak to them in person, as I had to leave early to rescue my husband from a 2-year-old with conjunctivitis, I reached out to them afterwards offering my support, services and offer to help in any way I can. Take a look at the Women Veterans Network Australia to see how you can help.
Throughout the course of last week I recognised that all over there are women doing amazing things from saving animals to saving people to saving the planet and I want to be on their team.
A few weeks ago I watched an interview between America Ferrera (Ugly Betty) and Reece Witherspoon. Reece has a program on Netflix about inspiring women called, Shine On. https://www.netflix.com/au/title/81169914
In this interview America (Ugly Betty), talks about the moment she realised it was her turn to lead. She realised that if she did not step up and lead, she would not make a difference, help people and affect change. It wasn't a path she chose, it just happened – and it strikes me that of all the women that inspired me last week, this was true for them too… They were given the opportunity to lead, to be change makers, to make a small difference in some way and they did not turn away from it. They took their turn to lead.
We all get opportunities to lead, (not necessarily the country!!) but in everything we do.  To lead well you must have good intentions, a pure heart, a spirit of one-ness and not be looking for anything other than what is in the best interest of the community you serve. There is so much depth to this that we could be discussing for years and years but it is the small things that make the biggest difference and each of us can do small things; role model good leadership, be change-makers, help others and support people in need; both close to us and far away.
In 1996, I wrote my Uni dissertation on the following topic: How Gender Factors influence Team Building in Sport.  Even as a 20-year-old I recognised the leadership qualities and coaching styles that women possess versus men, are different. In my 40's with so many amazing female leaders around the world, I'm excited, optimistic, and a little bit scared of my own 2 young girls who rule the roost in our house…
I'm also excited to see my book on Walmart, Amazon, Audible, Dymocks, Waterstones, Booktopia and so on…. Everywhere I search, even on a popular Indonesian online bookstore, my book is now available: https://opentrolley.co.id/book/9781922372246/broken-to-unbreakable
So, I realise that 2020 and beyond is my turn to lead, be a change-maker and a person who wants to role model 3 things; health and wellbeing, service to others and one-ness. Because here's what I know for sure… Covid – is a global pandemic! We are all connected! Small things make the biggest difference!
When I was a young girl my mother told me something I have never forgotten – "Krissy, you can't always get everything you want!" and I said, "Why not? Yes, I can!"
If we believe we can't get everything we want then what's the point in trying?
Emmeline Pankhurst got what she wanted and I know I will too! 
What do you want? 
 

You can watch this blog post here as a video and share it!

http://https://youtu.be/sShtc5x7Xhw


 

Categories: None

0

/